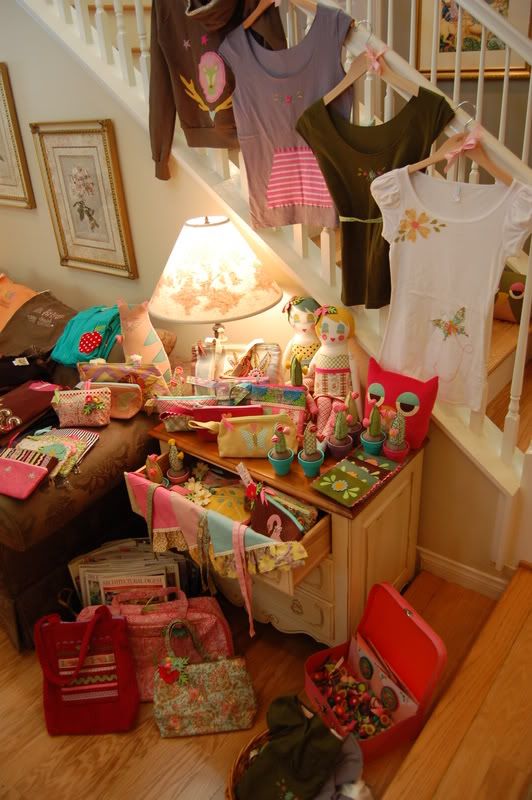 Right before I left on my post-Christmas holiday, Diane Gaston, Amanda McCabe, and I had a discussion on a major issue—RWA 2008 Fashion Must-Haves—precisely eight months before said event. At a national conference of writers who are mainly women, of course, what you wear is important along with all the business that is transacted, education that is imparted, and friendships that are forged.

In keeping with that, here are my top observations. I thank Harper's Bazaar, Allure, Project Runway, My Fab Bag and Shoes! on Facebook and assorted other mags and sites for the, um, scholarly information.





Sandals with sculpted 4" to 6" heels. Close-toe and peep-toe shoes are the staples, but if in doubt, go strappy. Then again close-toe shoe-boots or knee-length boots worn with above-the-knee flippy skirts are striking. Ballet flats are still in, thank goodness, for those long conference days. Silver sandals are everywhere. They are the new natural color and go with all dress colors. I-Straps are still going strong with one strap across the toes, another one at the ankles and a perpendicular one over the top of the foot. A half to three-quarter platform under the front of the foot reduces discomfort from the stratospheric heels and adds elegance to the foot. Hey, anything to reduce that 5" drop for the arch.





Size-up your bag to be part of the hipster crowd. They're getting bigger for general use. For the awards night, hand-held clutches are still in. If there's one bag you want to be seen with this summer, it's the white bag. I'm talking white-white leather. They're so hot that Burberry's currently offering six pieces in its collection of twenty bags.





Navy is the new black. White is very much in. Both of these colors can be worn as an entire monochromatic ensemble (pants, blazer, and shirt or top) when paired with splashes of color provided by jewelry, bag, and shoes. Black and white prints are back in favor. One big trend to emerge from the Paris couture shows is the draped, asymmetrical gown, particularly the one-shoulder piece, in jewel-toned colors, such as dark amethyst, bright emerald, classic sapphire, deep citrine, and ruby red. The hemlines either flirt with the knees (a little above, a little below, or rather in the middle) or are down by the heels (paired of course with the tall, tall heels). The mini-minis are not much in sight. Pants are still over-long and go with vibrant floral prints on baby-doll tops, tank dresses, halters, and deep vees. While there will always be someone into voluptuary displays, this season, the girls are staying indoors.




Big 50s frames in brightly-colored plastic are back. If you can get away with bright red lipstick, pair it with bright red frames.




Think chunky. Diamonds and pearls will always be in style. But multi-hued glass, crystals, resin, metal, and lacquered wood are the new thing. (I've even seen hard plastic.) Metallic and leather with large faces go well with the very much en vogue studded cuffs.

Outerwear
For those chilly San Francisco days, don't reach for a shrug. Go instead for a light belted trench or a glossy topper.

Makeup
Swirl, swirl, tap, tap, and buff in small circles. Mineral powders are still reigning supreme, from drugstore brands to niche labels. I continue to stay partial to the Bare Escentuals line. Look for bronzing makeup compact Terracotta Soleils de Légend by Guerlain and ColorGenius eye-shadows by MaxFactor. The nude look with all natural skin-toned foundation, eye-shadow, and lipstick when paired with bright-colored clothes makes a delicious statement. I've always been a Lancôme gal for mascaras, but the new Stilla Multi-Effect one is causing me to waver from the path of fidelity. And what's not to like with Lancôme's juicy tubes or Too Faced's lipsticks? The formula for great lips is easy: chapstick, lip liner, lipstick, and gloss. Look for Smashbox and Too Faced for the latest in eye shadows. For the glam look, go dark around the eyes.

Hair & Nails
Ponytails are in. I'm talking of a single sleek ponytail at the back, not one on each ear. Asymmetrical up-dos look stunning with jeweled hair jewelry. If the adornment is sizeable, skip the earrings and necklace. For the short cuts, the flatiron is your power tool friend. No more dreading bed head, hair with a mind of its own, or too curly hair. You can simply, er, iron out the problems. For nails, pale colors and pearlized shades are out. Bright, matte shades are in. French-style nails for the toes are passé. Go for rounded shapes. For a couture look, go for the deep, dark almost-midnight blue.





Thanks to Amanda McCabe, I was able to try samples of Michael Kors Island, Hermès Kelly Calèche, Kenzo Amour Indian Holi, Fragonard Billet Doux, Guerlain Mitsouko, Annick Goutal La Violette, Chanel Bois des Îles, and Caron Parfum Sacré. Victoria's Secret Basic Instinct remains a daily-use scent—I adore it, it adores my skin—c'est l'amour.

Great fabulosity can be yours at a fraction of the cost by shopping at Target (!!), The Accessory Shop, Zappos, Nordstrom Rack, The Perfumed Court, and at arts & crafts fairs. If you want to splurge, how about some Louboutins??

If nothing else, you've absolutely got to try the fresh and juicy tops (click on the first picture of the post) that are all the trend in Hollywood and NYC: Amy Tangerine.


Over to you, Fashionistas. What are your top favs? Any no-nos? Do you have your conference outfits all assembled?