Today's the last day of the four-book LESSONS IN FRENCH giveaway extravaganza by Sourcebooks. And since today's also my reguarly scheduled Picture Day Friday, let's take a look at Laura Kinsale's covers as they've changed publishers and/or gone through reprintings. (Go here and click on the book titles to read Laura's commentary on the covers.)

UNCERTAIN MAGIC













MIDSUMMER MOON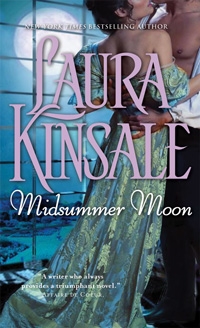 Which covers do you like? Is there something you'd like to see done for the covers that's not currently being done (or conversely, something not done that's being done)?


Today's the last day of the Laura Kinsale giveaways. Comment to add your name to be chosen to win a copy of LESSONS IN FRENCH.

FOUR winners will be announced on Monday, February 8. So be sure to check back then to see if your name was one of those chosen.