My hometown Seattle is known for its evergreen trees, majestic mountains, temperate rainforests, wilderness backpacking abundance, eleven months of rain, grunge music, plethora of vegan/vegetarian/organic choices, software nerds, our very own Fremont Troll, mind-numbing public transportation battles, and excruciating politcal correctness.

Here are some little known nuggets...


Henry David Thoreau once said: "I have three chairs in my house: one for solitude, two for friendship, three for society." Well, in Seattle, we have lots of single chairs. In his Myth of Seattle Nice, Knute Berger of crosscut.com writes: "We're friendly, but not so friendly as to actually want to get to know each other very much. Being too friendly could result in a restraining order."


If you value your life, don't you dare ever say: Recycling's a hassle. Be prepared to sort your trash 37 different ways and do it with a sun-break of a smile, otherwise you stand of being accused of planetary death.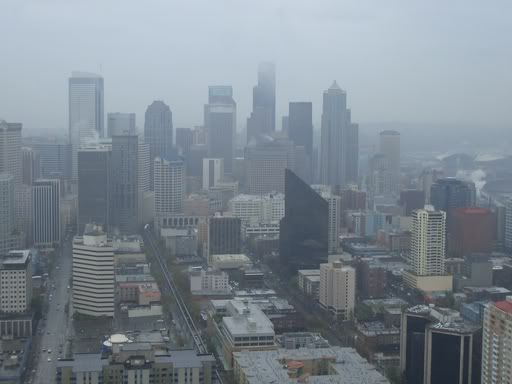 Bellevue might be an up and coming smartly planned city, according to national urban planners, but to Seattleites, it's nothing but that gas-guzzling, environment-killing suburban sprawl on the other side of Lake Washington. (Albeit with a great mall, not that anyone would admit it.)


You like driving more than biking? What is it with you and the destruction of Mother Earth? Cars aren't meant to be washed, waxed, enjoyed, or shown off. Oil changes and emissions control are performed on the pain of death. Cycling is good for you—leads to weight loss, thereby reducing the burden on the Good Ship Earth. Besides, "if you have a coronary riding up a hill," says Berger, "be reassured that Seattle is the 'Best Place to Have a Heart Attack' according to the Journal of the American Medical Association. So bike it and like it."


In our lauded city, pets are people, too, even if they go on your shoe while clogging up your sinuses and scaring your child into a crying jag. So be mindful—in fact, this makes a good slogan for the city: Be mindful of everything no matter how transitory or miniscule—that the frou-frou doggie under your table on your feet could be a lawsuit waiting to happen if you open your mouth to complain.

What are some of the extreme characteristics of your city? If you've been to Seattle, do you agree with my assessment above?