Here's fodder for your cocktail party conversations about ye merry olde England and its olde laws. All credit goes to that venerated documenter of how the British are ever so funny: The BBC. Did you know that...?


Londoners are not allowed to keep a pigsty in the front of their homes.

There is still a law in place that requires Royal Navy ships, which enter the Port of London, to provide a barrel of rum to the Constable of the Tower of London.

The acts repealed in 2004 included an 1888 law encouraging emigration to the colonies for unemployed adults and pauper children from the overcrowded cities of England and Wales.


A law introduced in 1307 ensures that the head of any dead whale found on the British coast becomes the property of the king and the tail belongs to the queen—should she need the bones for her corset.

Until 1835, anyone who carried a trade in the City of London had to be a freeman—a title still taken up by some 1,800 people every year. One of the privileges is being allowed to take a flock of sheep across London Bridge without being charged a toll.

In 1797, a law was passed preventing people from wearing a top hat after London haberdasher John Hetherington showed off his creation round the city. The sight of his hat caused quite a stir, and he was arrested and charged with breach of the King's peace. He was found guilty and fined £50.


Not technically against the law, but it is not allowed for anyone to die in Parliament. The death certificate is not issued until after the body is removed from Parliament. The reason? Anyone dying in Parliament would be legally entitled to a state funeral as Parliament is part of the Palace of Westminster.

It is still an offence to beat or shake any carpet rug or mat in any street in the Metropolitan Police District, although you are allowed to shake a doormat before 8am.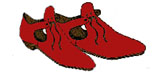 Elizabeth I was responsible for the law that banned women from using cosmetics to lead a man into marriage. This included false hair, makeup, false hips(?), and high-heeled shoes.