In a departure from my usual blog style, here are bits and pieces of the Middle Ages in the news currently...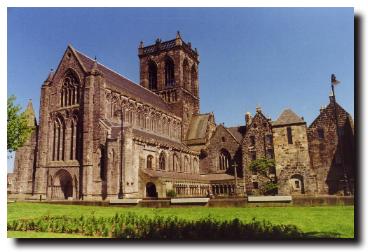 Medieval Fairs at the ancient abbeys of Paisley and Crossraguel in Ayrshire will be held May 14—16, 2010 as part of the 1,100th anniversary celebrations of the founding of the Abbey of Cluny in Burgundy, France. These two are the only remaining Scottish Cluniac abbeys. "The medieval fair is open to everyone and will include historic re-enactors such as an apothecarist, a calligrapher, musicians, an arrow maker, a blacksmith and weavers as well as knights in combat."


The Royal Coronation Chair at Westminter Abbey is set to undergo extensive restoration work to preserve it's 700-year medieval origins. "Much of its rich paintings, ornate gold gilt and glasswork has been lost over the centuries and the wood damaged by the graffiti of 18th and 19th century schoolboys." The conservation work is being done rather cheaply, to the tune of £200,000. Wonder if this is the first inkling of a future succession???


Professor Richard Oram of the University of Stirling gave a talk, titled Environmental Heritage in the Highlands and Islands at the Centre for Health Science, Raigmore Hospital, Inverness on April 29, 2010. He discussed environmental changes in northern Scotland during the Middle Ages and how medieval people had to cope with climate shifts. 900 AD to 1300s, the Scottish Highlands and Western Isles were 1.5% warmer and dryer than today and thus enjoyed pastoral prosperity in agriculture, population growth, and a booming economy. By mid-1300s, the mini Ice Age had begun and crop growth periods had dropped by nearly a month, domestic animals moved south, famine and disease spread, and population crashed. Professor Oram has published widely on aspects of Scottish medieval history and archaeology, including books on The Lordship of Galloway c.900 to c.1300, Domination and Lordship: Scotland c.1070-c.1230, Viking Empires, David I, and an edited volume on Alexander II.


Medieval treasures from the Yorkshire Museum have gone on display at the British Museum while the former museum is closed for a £2 million refurbishment. Janet Barnes, Chief Executive of York Museums Trust, says this exhibition has major significance for York: "It's a big thing for us, the fact that it's the first time the Yorkshire Museum has lent a number of objects to the British Museum. They've never featured a collection from a regional museum before." Key objects on display include the Middleham Jewel and ring, the York Helmet and Ormside Bowl, and the Vale of York Viking Hoard. "The Yorkshire Museum will have to make sure they all come back again though, as Jonathan Williams, Keeper of Prehistory and Europe at the British Museum, has his eye on them: 'I would give my hind teeth for some of these things, they are stunning!'"


The Connected History project is creating a search engine to help historians find useful sources by linking up currently separate databases of source materials. Once completed the search engine will index digitised books, newspapers, manuscripts, genealogical records, maps and images that date from 1500—1900. The first phase of the project is slated to be finished by March 2011.

Look tomorrow for PART TWO of GOING HISTORICAL...